This program is designed for novice companies with few employees and with a small requirements to the IT infrastructure. The number of employees is not limiting, but with a larger number of employees, we expect even greater demands and hence the selection of the corresponding program.
Services that are included in this program:
– Domain
It consists of a single domain server that is configured according to your requirements.
– DNS and DHCP
The role of the internal DNS server is represented by a domain server. An external DNS service is assumed by Internet service provider. The DHCP server is configured on the router.
– Firewall
The standard rules which are necessary for the correct functioning of the ordered services.
– Mail
A full-featured mail server with a domain, run on standard protocols IMAP, POP3 and SMTP. with the possibility of extending security through SSL, respectively. TLS certificate. The certificate is not included. Mail Storage can be placed on the file server.
– File/Print server
On the Server separate partition is created, with a directory and rights structure according to your requirements. This is then presented to users over the network. Automatic network drives mapping to individual users is not included, except standard mapped H: drive.
The print server is not part of the delivery.
– VPN
A separate VPN server is located on the router, not linked with the domain.
Price: 600 €.
Delivery time: within 10 days (does not include the supply of hardware).
All prices are final, OSbIS is not a VAT payer.
For this program we recommend purchasing the following products:
Servers
Router MIKROTIK RouterBOARD 2011iL-RM + L4
Rack GQ5606
APC Smart-UPS SC 450VA
Server can be purchased already from 890€ (8GB RAM, 2x1TB HDD, 4-core Xeon E3-1220V3 processor). Along with the other necessary components the final price is 1300€.
HW price: from 1300€.
For comparison, we present the cost of monthly and annual lease of virtual server with comparable levels of performance in the most famous MS Azure public cloud.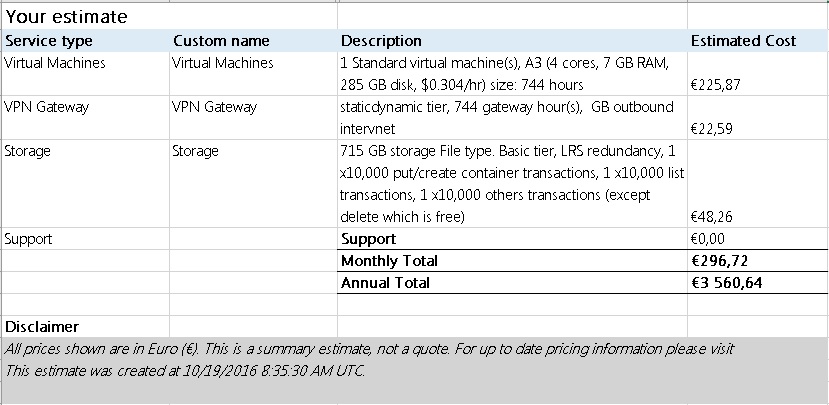 In this price is the only VPN service, eventually we may also consider the DNS and firewalls. But these will not be adjusted in detail. Definitely you can not expect a domain or email service. If you purchased from us monthly support for another year at the price of 200€ per month, than the monthly price difference between the cloud and our offer will be about 100€ more. After a year and a half you would pay for cloud about 1800€ more and it is roughly the amount that you have given us for the initial setup of services and hardware. In the next period you'll save by using our solution 100€ every month, in compare to cloud solution.